Free COVID Testing Los Angeles for Schools
Testing continues to prove one of the most effective ways to prevent the spread of COVID-19. Education continues, but schools and students still are at risk for contracting the disease. To catch cases early on, it is vital to have a system in place for testing students and teachers quickly in cases of suspected infection or exposure.
We provide that solution through free COVID testing for schools in Los Angeles to keep kids, parents, and teachers safe while navigating this pandemic.
Timely Testing for Increased Safety
 For free COVID testing for schools to be helpful, it needs to be accessible and quick. Our testing program and labs provide fast and accurate results for
both children and teachers to ensure their safety. The entire experience is painless, safe, and contact-free.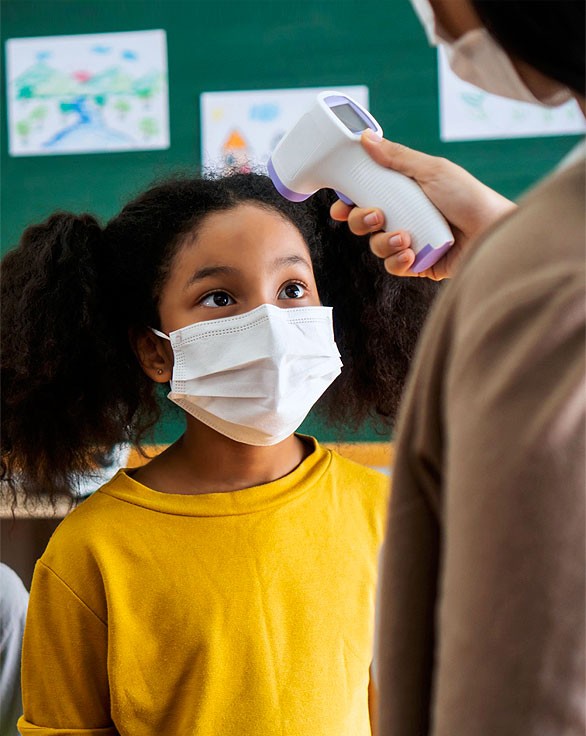 Find The Drive-Thru
Testing And Collection
Site Near You

Why Choose Free COVID Testing Los Angeles for Schools?
Rapid COVID testing minimizes the risk of spread within a school among both students and teachers. By conducting free COVID 19 testing when needed, a school can effectively and safely continue the education process while we work through the pandemic. We work with premier labs to deliver results that have precision detection. With testing, schools can keep students safer and minimize the risk of spreader events within their system. An effective testing system allows your school to provide timely responses to infection or suspected exposure.
Free Los Angeles COVID-19 Tests:

Easy to Read Results
Our testing results come to you in an easily readable format that allows you to see the outcome at a glance. We designed our reports to be efficient and easily added to your school's database without hassle.
What Kind of COVID Testing Do We Offer?
PCR Testing: PCR testing is a high-accuracy way to test for
current infection of the COVID-19 virus. Our lab provides a rapid
turnaround in under 24 hours. A NEGATIVE result means there is no current infection, while POSITIVE means that an individual currently has been infected with the virus.
Antibody Testing: COVID-19 antibody testing is a rapid way to see if you have been exposed to COVID-19 in the past or have never been exposed. Likewise, individuals who have been vaccinated will have antibodies present with which they can fight off infection.
How Soon Will We
Receive Results?
Antibody tests can be returned within minutes or hours. Our PCR test system also allows for rapid return of results, generally in under 24 hours, even during peak testing periods.
By shortening the time between receiving the test sample and sending out results, we can ensure schools have a rapid response to infection. This in turn increases the safety of students and teachers alike when an individual tests positive for the virus.
What Should I Do If a Student or Teacher Tests Positive?
A school's response to confirmed infections can vary, depending on the infrastructure of the school. Free COVID Test recommends that schools follow the CDC's official guidelines for schools to reduce risk to students, teachers, and families.
Basic steps include:
Conduct regular social distancing in classrooms and during other activities
Ensure all students, teachers, and staff wear masks, especially indoors
Conduct regular thorough disinfecting of all surfaces
Free COVID Testing Near Me: Schedule Free COVID Testing for Your School Today
Free COVID Test is here to help your school navigate this pandemic and keep students safe. With fast and accessible testing, we hope to do our part in helping Los Angeles and the surrounding areas reach the other end of this pandemic as safely as possible. Contact Free COVID Test today to learn more about our free COVID testing for schools.